Back to Herve Nisic's films site
CLICK ON THESE IMAGES TO SEE THE FILMS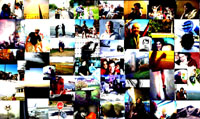 OUR LIVES
An art project to which everybody can participate on the Net.

By sending the pictures to you take with your digital camera, your mobile phone or your camescope. All subjects, all levels of quality, jpeg format only. >Small videos recorded with mobile phones are also welcome .

Your pictures will be part of an experimental film by Herve Nisic.

Every picture will last a fraction of a second in the film. What matters is the additions of all the moments of our lives. (Note that series of pictures will be more noticeable).

The pictures will be regularly included in the film and you can download the current state of the film at any moment.

Try to spot your pictures, but beware, life goes very fast !

WHAT WILL BE THE FUTURE OF OUR PASTS ?
OUR LIVES an extract of the film :
Sending images to

, implies that you accept their free use in the OUR LIVES experimental project by Herve Nisic, Any other use of those images, any reproduction of any part of the content of this web site is forbidden without a written permission.
you can send your pictures at :

there is also an iPod version :